Vietnam National Administration of Tourism develops a certification system of vaccination against Covid-19 according to European standards to welcome international tourists.
Recently, the Politburo, the Government and the Prime Minister have decided to pilot the use of vaccine passports for international tourists travelling to a number of tourist centers where the epidemic is controlled, such as Phu Quoc (Kien Giang). For the purpose of ensuring safe travel, the vaccination certification system is considered as the most important tool.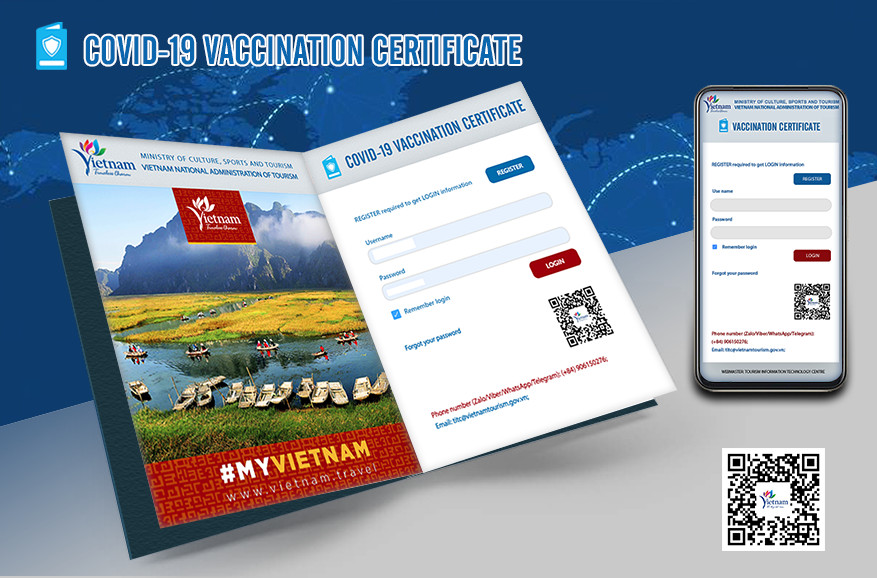 The vaccination certification system is researched and developed by the Vietnam National Administration of Tourism
Basically, a vaccine passport can be understood as a document certifying that a person has received their full two doses of the Covid-19 vaccine, which helps to ensure safety against diseases during travel. If authenticated on a digital platform, it will facilitate the tracking process when necessary.
In the face of an increasingly urgent need to reconnect travel and trade activities globally, a number of countries and organizations have also tested and applied digital certification tools with different names. The European Union (EU) has applied the EU Digital COVID Certificate to facilitate travel within the union. The International Air Transport Association (IATA) has developed a digital tool called the Digital Travel Pass, used in the aviation sector. The World Economic Forum (WEF) and the Common Project have developed the Common Pass. IBM Corporation has developed and applied the Digital Health Pass...
Implementing the policy of the Party and State, over the past time, with the supports from units under the Ministry of Information and Communications, the Ministry of Health, the Vietnam National Administration of Tourism has proactively developed a vaccination certification system on its website at https://travelpass.tourism.vn, in order to be ready to serve international tourists when international tourism is reopened. Currently, the vaccination certification system has been integrated on the app "Du lich Viet Nam an toan".
This system provides procedures for controlling, verifying and updating medical records of international tourists before and during entering Vietnam, during travel and tourism in Vietnam and until existing Vietnam. The system is built based on European standards, meeting the regulations on security, safety and confidentiality, creating favourable conditions for the arrival and departure of international tourists.
Thanks to the integration on the app "Du lich Viet Nam an toan", users can use the app to declare vaccination certification procedures. At the same time, users have the opportunity to access and take advantage of the ecosystem of smart utilities on the app such as finding safe destinations, updating disease information in localities, safe tourism digital maps, health monitoring, travel insurance, e-tickets, shopping services, tour management, exploring destinations...
Currently, the application is continuing to be upgraded comprehensively and synchronously to serve users in the most effective way, contributing to ensuring safe tourism in the new context, including the necessary feature: Updated information on testing for COVID-19.
Tourism Information Technology Center
 
---
Source: https://nhatrang-travel.com/tin-tuc-su-kien/tong-cuc-du-lich-da-chuan-bi-san-sang-he-thong-chung-nhan-ti.html